Happiest of New Years!
2015 was quite the year for us. We started the year believing big things + we saw many incredible things happen. We are feeling extremely grateful. Grateful for life, for family, for friends, for our business, for opportunities, for struggles, for faith...and the list continues. I think it's a good thing to look back on your year, no matter if it was the best year of your life or the hardest, and find the nuggets of awesomeness. Here are some of the reasons why 2015 will be a year to remember:
1. Rangefinder // this year we got the shock of our life when we were nominated + then named one of Rangefinders 30 Rising Stars of Wedding Photography. Making the list is an honor we never even considered possible. We were so humbled to see our name amongst a list of insanely talented folks that we have admired greatly over the past few years. This rocked our world + we are so thankful to the person in the industry who nominated us + to Rangefinder and the judges who chose us!
2. Friends + Family // we have the greatest friends + family on the planet. We truly believe we couldn't do what we do without an amazing support system. This year we watched some of our friends welcome babies into their families, get promoted at their jobs, make big life decisions, and go after their dreams. We are so proud. Some highlights were roadtripping through the Rockies with friends, visiting Mike's mom in Mexico, spending quality time at the farm + having our family come visit us in Vancouver. It is true that the best part of life is the people that you get to spend it with.
3. Asia Adventures // in April we traveled back to Asia, this time getting to explore Bali + Hong Kong. The purpose of the trip was to photograph two engagement sessions. Getting to explore these amazing places with two of our couples was a dream. We knew we would love Bali but Hong Kong was a pleasant surprise for us. We fell in love with the enormous city + cannot wait to go back.
4. Website // we got a new online home this year + we could not love it more! We worked with the talented Alyssa Yuhas to create a space that we truly believe represents us well. We cannot thank her enough for bringing to life what we imaged in our minds.
5. Field Trip // 200+ rad photographers from around the world camping together in California. We connected, we learned, we laughed, we partied. We left refreshed, a little tired, a lot inspired and with new relationships we will cherish for a long time. Big ups to Whitney and his crew. Can't wait until Field Trip 2016!
6. Magazine Features // at the start of the year we always try to take time to reflect on the year past + make some goals for the new year. Up until this point in our career we had yet to see our wedding work in print. So we made this a goal. From Real Weddings to My Wedding to Mingle to Wedluxe + Rangefinder, we saw our work featured in 7 different publications.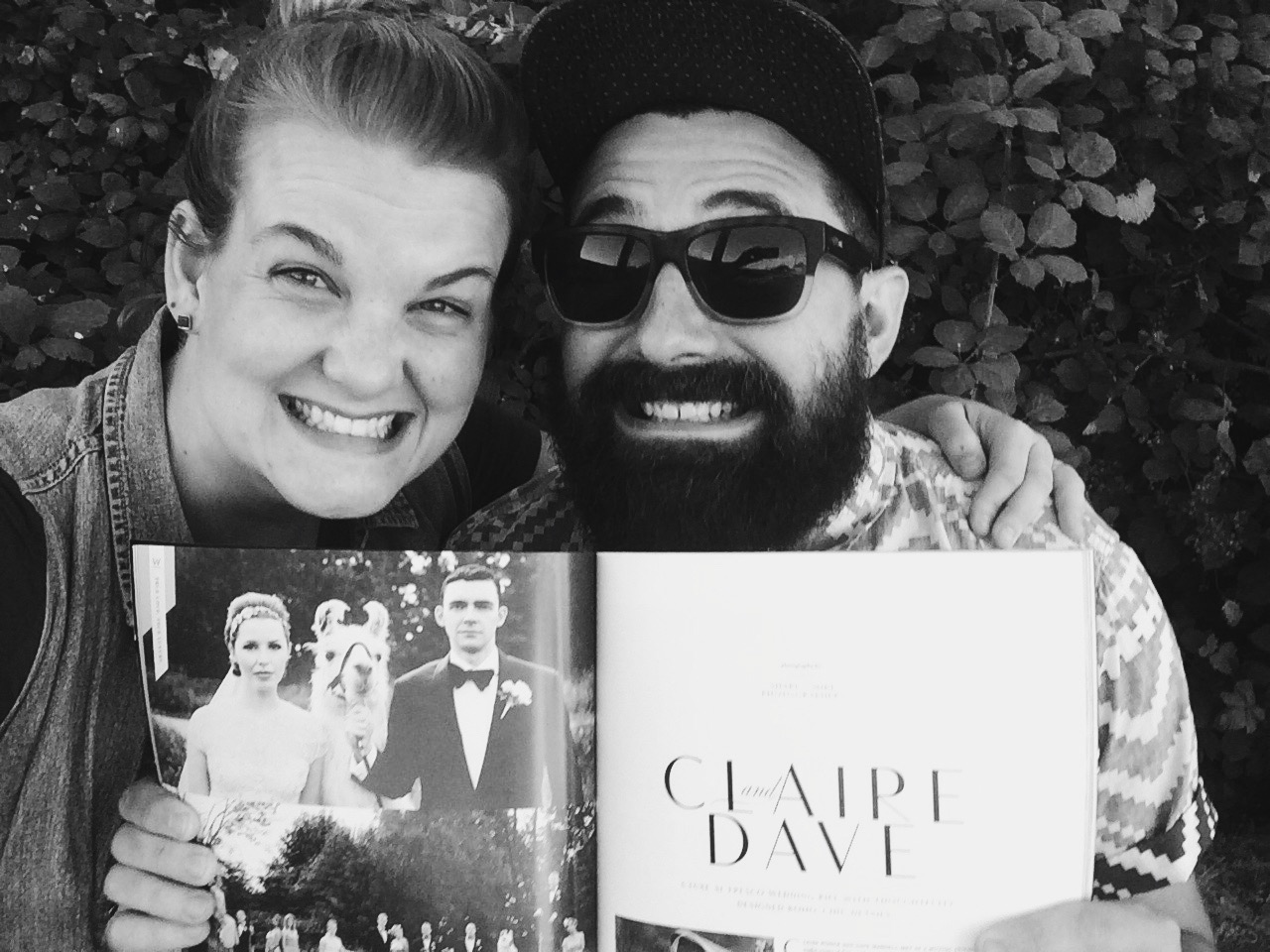 7. Softball + Curling // it's always our goal to try to do as much as we can outside of photography. We love playing sports + if we had the time, we would play just about anything. This summer we joined a softball team with our friends. Every week we looked forward to taking a break from our computers to get outside, enjoy the summer evenings + hang out with with people that we love. This fall I got asked to join a women's curling league + I definitely did not decline the offer. I grew up curling but in the last few years have only stepped on the ice a handful of times. It's been a lot of fun spending one night a week back at the rink. It reminds me of growing up in small town Saskatchewan.
8. New York // it's been at the top of our list for years. And this summer we were able to spend a few days in the city that never sleeps. I was overwhelmed for much of the trip with so much to see + not enough time. It was as magical as I always imagined. Highlights included walking across the Brooklyn Bridge, going to a Yankees game, spending an evening with our new friend Ken, mastering the subway, and eating lots of really delicious food.
9. Industry Friends // this has been the year of making new connections + building on past ones, both locally + abroad. From working with new people in the wedding industry in BC, meeting fellow photographers from around the world, road tripping through deserts, catching waves, hiking mountains and enjoying some great parties, we have loved connecting with like-minded people.
10. Blue Jays // I know you might call us crazy for having this on the list but if you are a baseball fan, you get it. We rarely missed watching a game all season + even got to see them play while we were on the east coast this summer. Looking forward to seeing what they do this year. GO JAYS!
11. Destination Weddings // We love traveling. We love weddings. It's been a dream to be able to do both. This year we got to travel to places like the Yukon, Vermont, Mexico, Hawaii + all around beautiful BC.
13. Personal Project // it's easy to get caught up in only shooting for clients. After listening to Dan O'Day speak at CPC I was inspired to finally start a personal project that I have been wanting to do for years. And it has everything to do with the life of my grandfather. His life inspires me. My favourite part of the project so far has been the amount of one on one time I have spent with him this year. I have learned so much about him through the stories that he has told + will cherish these moments forever. Excited to see how the project unfolds + hope to finish it in 2016.
14. Our couples // we adore each + every couple we had the privilege of working with this year, all 41 of them. Our couples had us traveling all over western Canada, up to the Yukon, over to the east coast, around Asia, down to Mexico + over to the Hawaiian Islands. I'm pretty sure we spent more time away from our home than in it this year but we are totally ok with that. A BIG THANK YOU to our couples for being people who love life, who find joy in the simple, who go with the flow, who have impeccable taste, who seek the adventure, who trusted us unwaveringly + made us feel like family. We love you all + cannot wait to see what this beautiful life has for each + everyone of you.
15. 10 Years of Marriage // being married is awesome but it's also freaking hard. We have had our fair share of ups + downs but over the years we have grown, we have learned + we are in a better place. We love each other way more today then we even did yesterday so renewing our vows seemed like the perfect way to celebrate 10 years of marriage. One of my favorite places is the old church my grandparents got married in. It can be found in the middle of a field just a few miles from the farm I grew up on + is less of a church + more of a home for mice + other creatures. But it's beauty is undeniable. So on our anniversary we stood in the exact spot my grandparents stood on their wedding day 71 years ago, exchanged personal vows + had my grandfather pray a blessing over us. It was perfect.
A huge thanks to our ridiculously talented friend Brittany Esther for travelling all the way to the middle of nowhere to document our vow renewal...and for Blake Loates for making the trek with her and for being on iphone duty (which can be seen below)!
2015 was truly an incredible year for us and we are so stoked to see what 2016 has in store! Wishing you all the best in this new year. Let's make the next 355 days count :)